Part 15: 2008-09 season—Challenges and Evolution

During the off-season, Mao said something like, "Now I have to work hard because everyone will be chasing me." Tarasova said, "To stay at #1, you have to keep evolving."

So just like in the 2006 off-season, Mao underwent a series of big changes and set several ambitious goals for herself.

First, as I mentioned in the previous post, Tatiana Tarasova became her coach. However, their coaching relationship was rather unusual. Mao wanted to train in Japan, using Nagoya as her home base. However, Tarasova had to stay in Russia most of the time because she had to take care of ill family members. As a result, Mao and Tarasova would only see each other maybe once a month at most—Mao would go to Russia for a week or two, and Tarasova would occasionally come to Japan.

Given that most skaters train with their coaches on a daily basis, this was a highly unconventional arrangement. But I thought it would work out fine, since at the 2008 Worlds, Mao had shown that she could basically train herself. And moreover, seeing Mao and TAT together just made me smile. They seemed so happy together. That's exactly the kind of coach Mao needs, I thought. Not only someone who loves her and believes in her wholeheartedly, but someone whom she can love back.


Mao and Tatiana Tarasova at Chuukyou University in August 2008
Mao and Tarasova in Russia
(Mao is wearing a Russian team jacket that TAT gave her)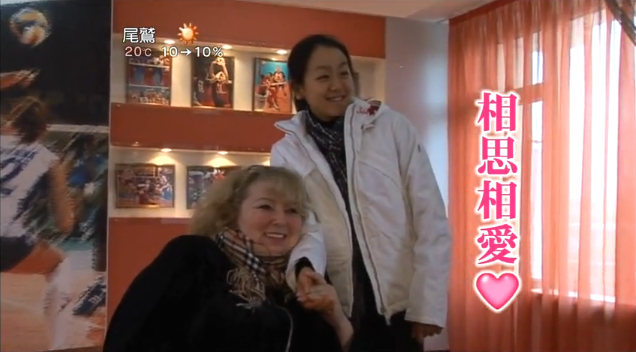 Mao and Tatiana Tarasova training
(At Chuukyou University, August 2008)


Tarasova made two requests upon becoming Mao's coach—Mao would need to find a full-time Russian/Japanese translator, and she would need to work with an off-ice trainer to build strength. Both requests were easily fulfilled. In the latter case, Weider, one of Mao's sponsors, supplied her with an expert trainer, Kouhei Makino, and a nutrition specialist, Kokoro Kawanami. In return, they would make Mao's training into a publicity project, taking videos of her training and posting it on a blog.

At first, Mao was a little skeptical of the new off-ice training regime. (1) She was used to her own training exercises, and she worried that it would take a long time to get used to the new exercises. In addition, trainer Makino had never worked with a figure skater before. But as time went on, Mao began to feel stronger; she felt that her jump landings were more secure, that her stamina was greater, and that the pain/uncomfortable feeling in her lower back/hips had gone away.

***

Mao's first challenge was her programs themselves. For her short program, she and Lori Nichol selected an orchestral version of Debussy's "Clair de Lune." I thought it would be a perfect song for Mao, just like Chopin's Nocturne was, but Mao and Lori thought it would be a challenging song that they could only try in this pre-Olympic year. After all, it's quiet, it has no story, and it doesn't really build to a climax. Mao would have to sell this program with the beauty of her skating alone. (2)

Mao and Lori Nichol practicing
(At Chuukyou University in Japan, September 2008)


For her long program, Mao chose Khachaturian's dark "Masquerade Waltz" ["Waltz" from the Masquerade Suite.] One of Mao's goals for the season was an "image change," and this heavy, ominous music was definitely unlike anything she had ever skated to before. I really liked the song "Masquerade Waltz," and I was excited to see what Mao would do with it, though part of me worried if Mao, the gentle angel on ice, could master such sinister-sounding music.

Mao's next set of challenges involved her jumps.

First, now that the base value of the triple axel had been raised from 7.5 points to 8.2 points, Mao wanted to put TWO triple axels in her long program. If she landed them successfully, it would be the first time a lady had ever performed that feat ever.

Second, Mao was determined to fix the take-off for her lutz so that she would stop receiving edge calls and deductions. By August, Tarasova claimed that Mao could land 7 out of 10 lutzes correctly, which seemed like remarkable progress given the extreme difficulty of retraining a jump Mao had done incorrectly for years. But Mao was a genius jumper, after all.

Third, Mao wanted to add the triple salchow back to her program. It was one of the jumps that she did not particularly like and claimed she was not good at, so she had left it out of her programs since she became a senior. However, there was talk that the ISU would institute a bonus if a skater performed all 5 triple jumps (toe loop, salchow, loop, flip, and lutz) successfully—and Mao did not want to miss out on that.

Finally, since the number of required spins in the long program was lowered from four to three, Tarasova used the approximately 15 extra seconds to create an extremely challenging and tiring 45-second long step sequence. With two triple axels and an extra-long step sequence, Mao would basically be tackling a men's level program.

Mao was scheduled to make her Grand Prix debut at the the 4th competition of the season, in mid-November, and I could not wait to see how 18-year old Mao had changed.

Endnotes
1) See post #6 on this page.
2) See pg 149 in 浅田真央、17歳 [Mao Asada, Miracle Seventeen].