Part 11: 2007-08 season—Sunshine after the storm

After the 2007 Grand Prix Final, I may have had thoughts of doubt and despair, but Mao Asada had more important things to worry about—Aero's new puppies! Yes, during the Grand Prix Final, Mao's beloved toy poodle, Aero, gave birth to three puppies. (See pictures in Message from Mao No. 29 on this page.) Mao and Mai kept two of them, and later named them Tiara (ティアラ) and Komachi (小町).

When Mao returned to Japan for the 2007 Japan National Championships, she not only got to see Aero's new puppies, but a lot of people in the skating world like Midori Ito that she hadn't seen in months.

At Nationals, Mao finally overcame her mental block and skated her short program beautifully at the 2008 Japan National Championships.

2008 Japan National Championships SP
"Fantasy for Violin and Orchestra" by Nigel Hess

(Please click on the YouTube link to watch in HD! I recommend it!)

The costume she wore—she actually borrowed it from Mai—remains my very favorite.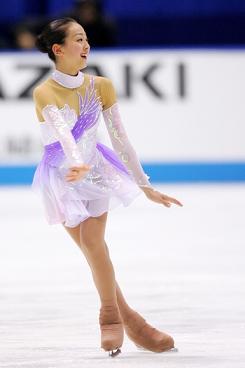 Although she popped the triple axel in the long program, she did enough to win her second straight National title.

Mao Asada with Japan National Championships trophy

(Looks heavy!)
I think the success in the short program marked a turning point in Mao's season. She had been so excited about her new short program—her chance to reveal a new side of Mao—and she had shed bitter tears when she couldn't execute it perfectly. But now, she had finally succeeded. She had gained so much confidence in her program that she even performed it as her exhibition piece in the gala after Nationals, the annual "Medalists on Ice."

2008 Medalists on Ice (with live orchestra)
"Fantasy for Violin and Orchestra" by Nigel Hess

(Click on the YouTube link to watch in HD!)

***

Mao's next stop was the Four Continents Championship in Goyang, Korea. Surprisingly, Yu-Na Kim would not be there. Yes, just like in the previous season, Yu-Na Kim suffered an injury right around the beginning of the year, and she would not be able to compete in her home country.

Given that Mao was entering "enemy territory," she was surprised to receive such a warm welcome. At this point in time, the Mao/Yu-Na rivalry was not so tense, and the Korean skating fans greeted Mao with their boisterous cheers.

The new year also brought Mao new costumes: a long-sleeved silver costume with a lavender skirt and a V-neck cut for her short program, and a gorgeous rose pink dress for her long program.


In the short program, Mao stepped out of her triple lutz, and her triple loop in her combo was downgraded, but she held onto first place.

Mao in the kiss 'n' cry after the SP
In the long program, Mao nailed her opening triple axel, racking up GOEs of +1.86 points; making that single jump worth 9.36 points, or nearly the same as the base value of a triple-flip/triple toe loop combo (9.5 points). She skated the rest of her program cleanly, and though she received an underrotation call on the triple toe loop in her triple-flip/triple-toe loop combo and an edge call on her lutz, she managed to score 132.31, very close to her personal best.


Mao's new FS costume
2008 Four Continents Championship FS
"Fantasie-Impromptu" by Frederic Chopin
Mao finished the competition with nearly a 14-point lead over the second place finisher, Joannie Rochette of Canada.


2008 Four Continents Championship podium: Joannie Rochette (silver), Mao Asada (gold), Miki Ando (bronze)
But her time in Korea was not over yet. At the exhibition gala, Mao delivered a stirring performance of her exhibition number, "So Deep is the Night," based on Frederic Chopin's Etude Op. 10 No. 3 in E major, "Tristesse."

2008 Four Continents Championship Exhibition
"So Deep is the Night," based on Chopin's "Tristesse"

(Click on the YouTube link to watch in HD!)

This number remains one of my favorite. Effortlessly elegant, heartbreakingly beautiful, simply sublime. I could not help but feel moved.

Mao was also interviewed for Korean TV, charming the reporter with her bright smile and even giving Korean fans a chance to hear her sing.
Mao Asada on Korean TV
And of course, there was tons of yummy Korean food to be eaten!
With her short program problems seemingly behind her and the triple axel in great shape, Mao looked ready to conquer the world. No one would have guessed that crisis was about to befall her…